Verification of Codes on Sachets and Boxes
Quality control is exceptionally important in pharmaceutics. To make sure that counterfeit or expired drugs do not reach retail channels, it is essential for pharmaceutical producers, that batch numbers and expiry dates on sachets and boxes are perfectly printed and easily readable. Therefore Verla-Pharm, Germanys market leader for magnesium supplements, decided to equip a new production line with solutions by Laetus.
Customer request
Verla-Pharm requested a solution to verify processes on a new packaging line for supplements in powder form. Printed barcodes on folded boxes as well as information on powder sachets were to be verified. Some information was printed with blue color on silver glossy paper. The solution should be integrated into the manufacturing execution system of Verla-Pharm. The new packaging machine was built by Italian machine builder Marchesini.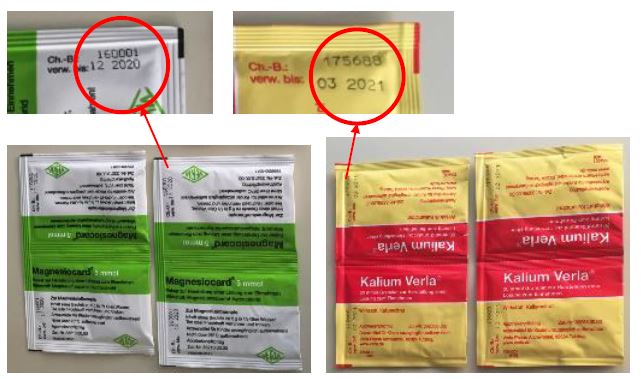 Laetus solution
Laetus set up a GAMP- and FDA-compliant solution based on the ARGUS wt system. ARGUS wt is a modular and network-ready packaging control system for the safe control of prints and the verification of codes in the packaging process. It helps to check all kinds of codes – from simple barcodes and multi-colored codes in pharmaceutics to the GS1 DataBar, 2D Data Matrix, QR-Codes as well as color ring codes on ampoules. An intelligent server thereby operates the data administration and access control for all connected devices.
ARGUS wt was equipped with Laetus´ lighting system MiraLux DIL, which provides indirect light. Thereby also prints on materials such as aluminium and other shiny backgrounds are lighted without reflections. Codes are printed by two TIJ Wolke-printers. Two SmartSpect camera systems as well as COCAM wt880 by Laetus deliver perfectly clear pictures respectively read, decode and verify the printed information. The integrated ECS wt150 eject control system makes sure that defective packaging is ejected from production before it is filled.
Factors for success
The uniquely designed solution guarantees fast, accurate and consistent checking and verifying of all kinds of codes. Even codes on shiny paper are checked reliably. The connection to the companies MES-system assures automatic recalls of misprints. Verla-Pharm was so satisfied with the first production line, planned and built in 2019, that a complementing machine, installed in 2021, was equipped with Laetus devices as well.

Are you looking for a print and verify solution that fits the requirements of your production line?
For additional information follow this link or contact our experts.