Current challenges in cosmetics
Millions of people around the world use cosmetics, from soaps, lotions and toothpastes to high end perfumes, to enhance their personal care and boost their confidence. The cosmetics industry is growing at a rate of 5.3% each year, and this increase in demand has resulted in mounting global competition. At the same time, the industry is shifting – sales are moving online, counterfeit products are pervading the market, and consumers are becoming increasingly aware of health and safety concerns – so brands need to concentrate their efforts on customer centricity, transparency, and quality control if they wish to remain competitive.
Streamlining supply chains
A significant digital transformation in the beauty world means that customers can now order many beauty products online. However, e-commerce also offers a simple route to market for potentially dangerous counterfeit products, and makes it easier for opportunistic third parties to divert products through unauthorized distribution channels. Therefore, beauty brands are working hard to establish reliable, resilient, and transparent supply chains and address imitation products that put their reputations – and consumer health – at risk. Track and trace solutions, such as QR codes on packaging, offer cosmetics manufacturers insights into each stage of their product journey. This technology can help them to manage product and packaging quality by identifying and isolating any defects down to the individual unit. Serialization and aggregation tools are also crucial to help streamline order processing, shipping, returns or recalls. Finally, track and trace technologies allow manufacturers to assess the outcomes of marketing campaigns, and tailor promotional efforts to prospective buyers.
From Packaging Accuracy to Consumer Engagement and Full Traceability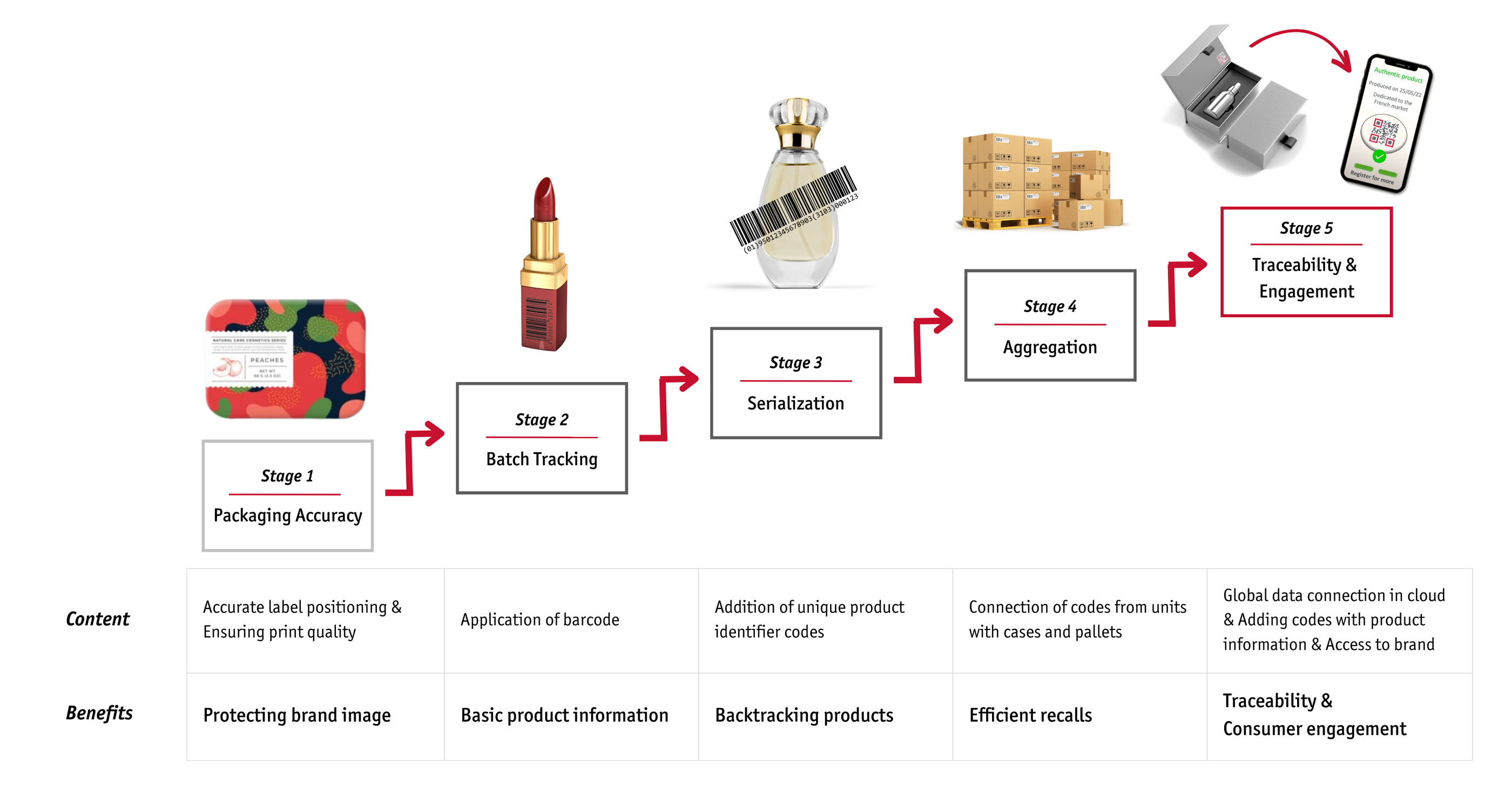 Traceability in action
Tracking products in this way – from raw materials to the point of sale – also benefits customers by enhancing transparency. Public understanding of cosmetic production issues has increased in recent years due to media exposure of unethical practices, vague ingredient labels, and greenwashing. Therefore, customers are placing growing pressure on their favorite beauty brands to be more honest, ethical, and sustainable. In response, cosmetics companies are making conscious and continuous efforts to produce high quality goods at affordable prices, and to provide full disclosure on processes and ingredients. Track and trace codes – with their unique numeric or alphanumeric characters – can be easily scanned by customers, giving them confidence in the authenticity, safety, and quality of purchased cosmetics. This personalizes the customer experience and, in turn, can improve customer-brand relationships.
Stepping into the world of serialization
Laetus quality and vision inspection systems have been supporting companies in several industries for many years to always reach the perfect level of traceability, including major brands in the beauty sector. Our track and trace technologies have significantly helped to protect manufacturers by providing supply chain visibility and preventing recalls. Applying this strategy and the respective functionalities to the cosmetics industry has the potential to strengthen customer trust and confidence in beauty products, and preserve company reputations in a highly competitive market.
Contact Us for More Information:
For more detailed information about solutions for the Cosmetics industry