COVID-19 Vaccine Plant in France Equipped with Laetus Technology
First COVID-19 Vaccine Plant in France
French President Macron was at Delpharm's Saint-Rémy-sur-Avre plant on April 9th 2021, visiting the first COVID-19 vaccine production site in the country. This new production line is prepared to produce Pfizer/BioNTech vaccines with a speed of 400 vials per minute, supporting the fight against the pandemic.
Laetus, a Danaher Product Identification operating company, specialized on pharmaceutical traceability solution, has been a strategic partner of Delpharm for 25 years. The relationship was evolving and tightened over the past two decades thanks to the reliable hardware and software products, as well as the engagement level of our deployment and service team to our customer. With the trust gained over time and the outstanding track records of implementing COVID-19 projects with other customers, Delpharm confirmed the collaboration with Laetus only two months after the official announcement of this vaccine production.
Laetus Contribution at Delpharm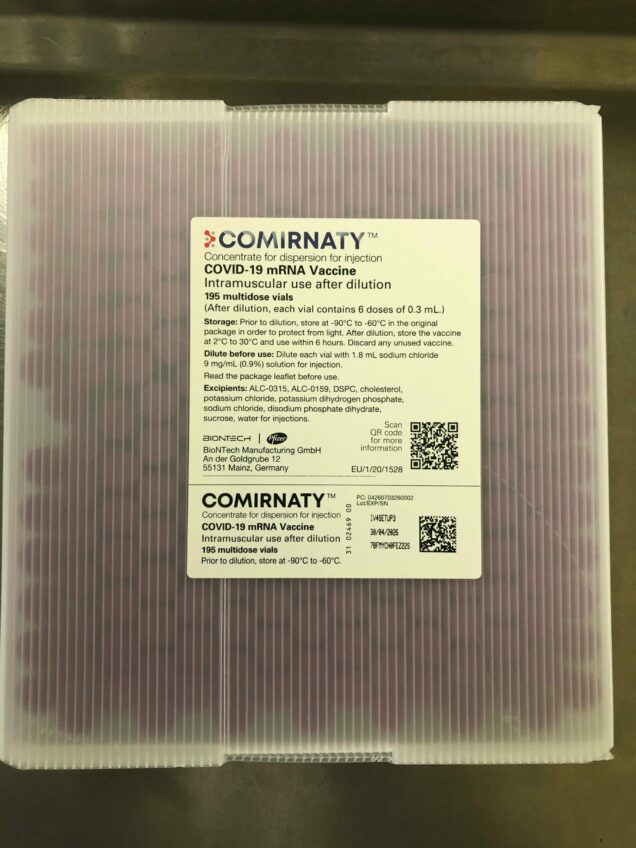 In order to accelerate the implementation of the vaccine line, our customer Delpharm paused all other on-going constructions to focus on having a robust production environment at the Saint-Rémy site as quickly as possible.
This vaccine production line is equipped with Laetus serialization and aggregation solutions, ensuring the tracking of doses from manufacturing plants to each delivery location, which guarantees the authenticity of the vaccines to medical professionals and to patients.
"Despite the current lockdown restrictions, doing our best to work together with Delpharm colleagues at the plant allowed us to proactively and effectively help customers solve their challenges." Michael Palluaud, Laetus system engineer, mentioned.
The team spirit was especially highlighted by Amaury Dutournier, project manager in charge of planning and coordination. This line is the first COVID-19 vaccine production facility in France and has started the production in mid-April. Those vaccines are helping thousands of people since the rollout. The Group will implement a second line in another plant to increase the production of vaccines and demonstrate their strong engagement with EU fighting against COVID-19 crisis.
Besides the Delpharm project, Laetus is supporting customers in China and the US since the beginning of 2020, securing the quality and traceability of COVID-19 test kits and medicines. The notable contribution of the entire Laetus team with our unique consultancy approach has brought quick and effective deliveries to the health industry. Working side-by-side with our pharmaceutical customers, we commit to protect lives and families around the world.