Protecting your Lubricant Brand from Counterfeits
The Challenges for Automotive Chemical Manufacturers
Fake products destroy copyright and innovation owned by brand owners. Many companies have implemented serialization and aggregation solutions as a remedy. This anti-counterfeiting challenge is especially relevant for automotive chemicals. Counterfeit car engine oil can be found in original bottles that are refilled with fake oil, or in copycat bottles. Affluent Brands like Castrol, Gulf, Servo, Veedol, Elf and Hero all have evidence of being duplicated by illegal manufacturers.
Brand Owners Protect their Reputation
Counterfeit engine oil contains color, additives, and low quality processing oil that damages the engine. Catastrophic side effects such as explosions, overheating, and fires have occurred due to malfunctioning of engines. Caltex and Shell already implemented anti-counterfeit features for their lubricant products in Asia to prove authenticity to their customers. Oil companies are not the only affected players, car manufacturers are the first to be investigated after these types of accidents.
Daimler, the group that owns Mercedes-Benz, is closely involved in the battle against counterfeit automotive products. In 2017, Daimler filed a lawsuit against Amazon for infringement activities. In 2019, the company initiated or accompanied more than 520 cases with the legal authorities.
Fake parts and engine oil lead to mistrust of manufacturers and damages their reputation. With the above combating experiences, automotive leaders such as Daimler urge their suppliers to implement brand protection mechanisms to prove the authenticity of the parts and chemicals they use.
Brand Protection Technology
Having a brand protection solution means having a unique code on every individual item of your product, i.e. generating a unique identification as a finger print for each bottle of motor oil. This unique identifier contains 2 elements: a GTIN (contains GLN) following GS1 standard, and a unique serial code. The most commonly used format of the unique identifier in the market is the QR code. The technology to generate and print this unique code is serialization.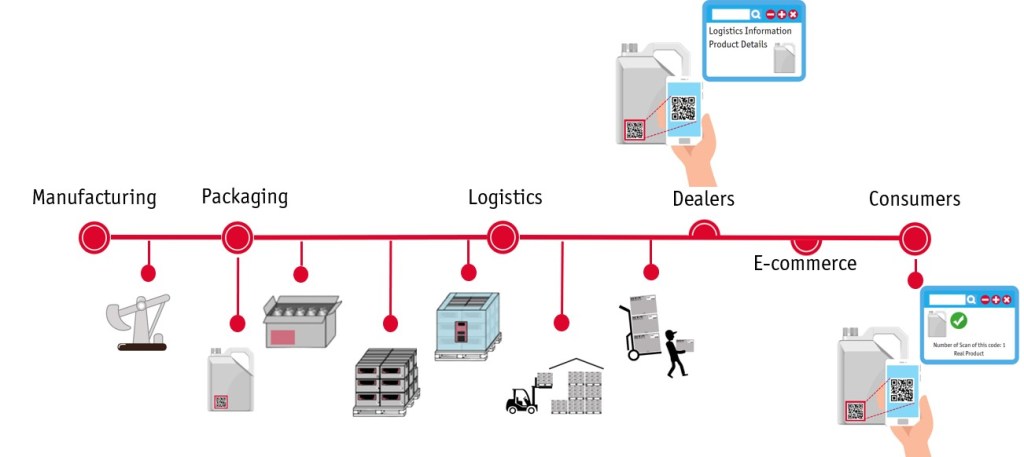 After the bottles are packed in carton boxes, a label will be automatically printed and put on the boxes with an aggregated code. This code contains all the information of the unique identifiers on the bottle level, which are packed inside the carton. Same process applies from cartons to cases, and from cases to pallets. Aggregated codes are also QR codes, with a different level of information. The technology that ensures the connection between serial codes and aggregated codes is aggregation.
Once a pallet is fully prepared and the pallet label is printed, the system sends an automatic information to ERP and to the authorities' system that this pallet can be ready for shipment. Operators will only scan the QR code on this pallet, the highest-level of aggregated code. From this code, the operator will know directly the cases, the cartons, and the bottles contained within this pallet. To continue the workflow, each distribution center will have access to certain aggregation levels according to their responsibilities in the supply chain, until it reaches the dealer or the end consumer of the motor oil.
The dealer can scan each individual bottle with a dedicated mobile app to read production, logistics and technical details of a specific bottle. While consumers can scan the bottle they bought with an app to verify this unique code is stored in the brand owners' database and confirms its authenticity.
Josselyn Duvivier, project manager of the global track and trace project for an automotive chemical leading producer, highlighted, "By implementing this serialization and aggregation technology, our customer achieved end-to-end traceability and authenticity, from the production and packaging line, until the consumers."
Laetus has been a specialist in brand protection solutions for more than 45 years. We have helped industry leaders worldwide to ensure their products' safety and traceability. With our unique modular solutions, our systems can be easily adapted to the specific requirements of your production environment. We are your business partner with a shared vision of tracking and tracing your product to the end consumer. We offer serialization and aggregation solutions for your manufacturing plants that prove the authenticity of your product and protect your brand value.