Efficient Solution for Serialization of Small Batches
Smaller batch productions which undergo frequent production order (PO) changes pose a real challenge when it comes to serializing folding boxes. Retrofits may involve a considerable amount of time and reduce the overall equipment effectiveness (OEE).
Steps in the Serialization Process
During a typical serialization process, folding boxes are transferred from the cartoning machine to the serialization system and are printed with bar codes, data matrix codes or plain text such as GTIN (Global Trade Item Number), which are transferred from a database.
An optical control system then inspects the clean, precise printing and verifies the printed information. Secondary packaging with faulty printing, labeling or printed content is automatically detected by the control system and ejected.
High throughput and fast adjustment to the respective packaging dimensions are decisive factors where a cost-effective serialization is concerned. Companies, which package lots of small batches of varying products, need to frequently change formats. The product guide as well as the position of the printers and control systems tend to be adjusted manually with a rotary knobs. This manual adjustment takes manufacturers about 15 minutes before the new format can be smoothly moved in and production restart.
Fully Automatic Format Change
In order to keep down time, costs and the risk of operator faults to a minimum, companies can rely on new technologies such as the Series 1000 Compact to solve their production challenges. Such systems perform format changes in a fully automatic manner. Operators will only need to select the new PO format on the touch panel and the machine starts the adjustment process automatically. Mechanical forced guides, printers, tamper evident label feeders and cameras for optical control of all the applied printing and tamper evident labels then position themselves. The format change is complete in less than a minute.
Print, Verify and Tamper Evident Features
Depending on the product quality and size, the Series 1000 Compact prints and verifies bar codes and plain text at a speed of up to 400 folding boxes per minutes. Furthermore, up to 800 tamper evident labels per minute can be simultaneously attached to both sides. The INSPECT wt iCAM camera system from Laetus provides the print inspection and checks that labels are correctly applied. Inaccurately identified or affixed products are reliably ejected.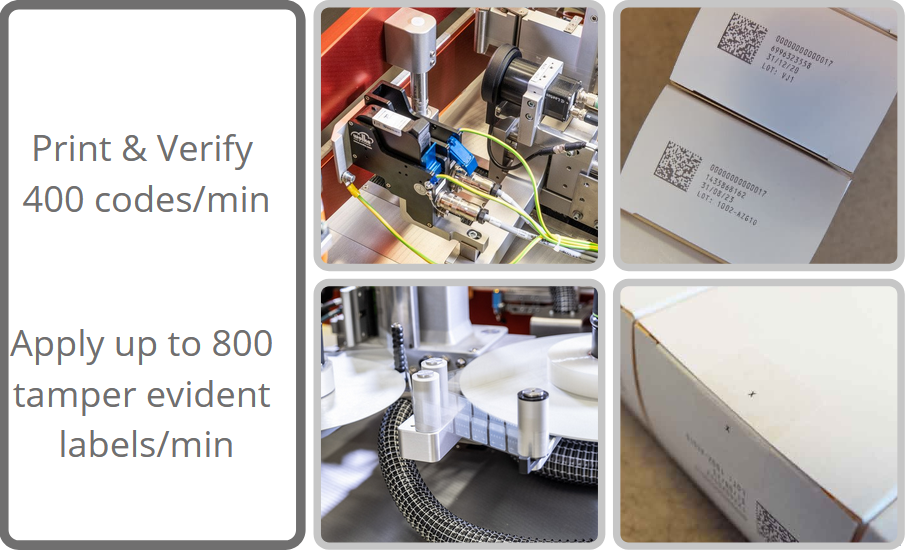 Gentle Ejection System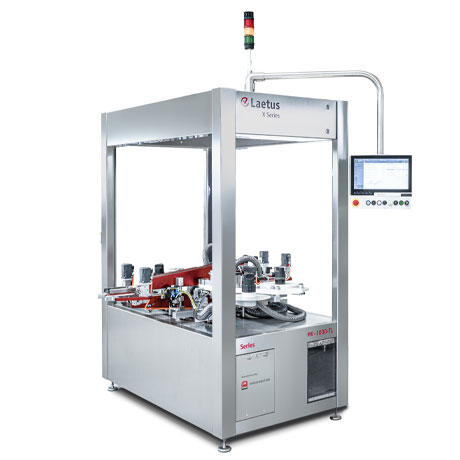 In the case of ejecting inaccurately identified secondary packaging, it must be possible to repackage particularly high-value or sensitive products. The electronically controlled mechanical high-speed ejection of the Series 1000 Compact pushes folding boxes from the product flow in a very gentle manner regardless of their weight.
The open design of the Series 1000 Compact also enables straightforward and convenient access to all relevant parts. Especially contract packers, who need to insert individually branded tamper evident labels on a frequent basis, benefit from the fact that the tamper evident label feeder is so easy to operate. It recognizes the size of the label on the conveyor belt and supports flexible and automatic handling of a wide range of labels.
Could this be the perfect solution for your batch serialization?
For additional information follow this link or contact our experts.